It's April, and Wildfire Season Begins in Central Washington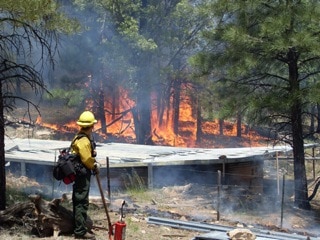 This week's high-70's temperatures and less than normal snowpack conditions in the mountains signals another potentially threatening wildfire season in Central Washington. According to climatecentral.org, "there are more large fires burning now [in the West] than at any time in the past 40 years, and the total area burned each year has also increased.
Although the majority of wildfires are caused by lightning, and natural burns are an important and even necessary part of maintaining a healthy forest ecosystem, too many wildland fires are carelessly man-made. The Taylor Bridge fire, for example, was started on a hot August day in 2012 by a careless welder at a construction site near Cle Elum, Washington. This employee's inattention to proper safety protocol sparked a fire that caused 22,000 acres of land in Central Washington to burn, destroying homes, property, outbuildings, and vehicles; displacing livestock and causing hardship for countless families and business owners.
Abeyta Nelson is one of the few law firms in Washington State handling wildfire litigation claims. Currently, Abeyta Nelson represents 73 clients whose property or belongings were damaged in the Taylor Bridge Fire. The firm has successfully settled claims for 78 clients in the St. John's Monastery/Bakery fire which happened in September 2011; six ranchers in the Goldendale area for damages from the Wishram Fire which occurred in August 2011; and claims for three homeowners in the Omak area for damages resulting from the St. Mary's Mission fire in October 2012.
As summer approaches and temperatures rise, fire danger is expected to increase rapidly by June, according to an April 15 article in the Yakima Herald Republic: http://www.yakimaherald.com/news/yhr/wednesday/3083774-8/warning-of-early-fire-season-in-northwest-sparks.
What can local families do to protect themselves and their property during wildland fire season? Plan to attend a community workshop on May 21 at 6:30 p.m. at Yakima County Fire District 12, located at 10000 Zier Road in Yakima. For more information on potential wildland fire loss claims, contact Abeyta Nelson Injury Law at (509) 575-1588.