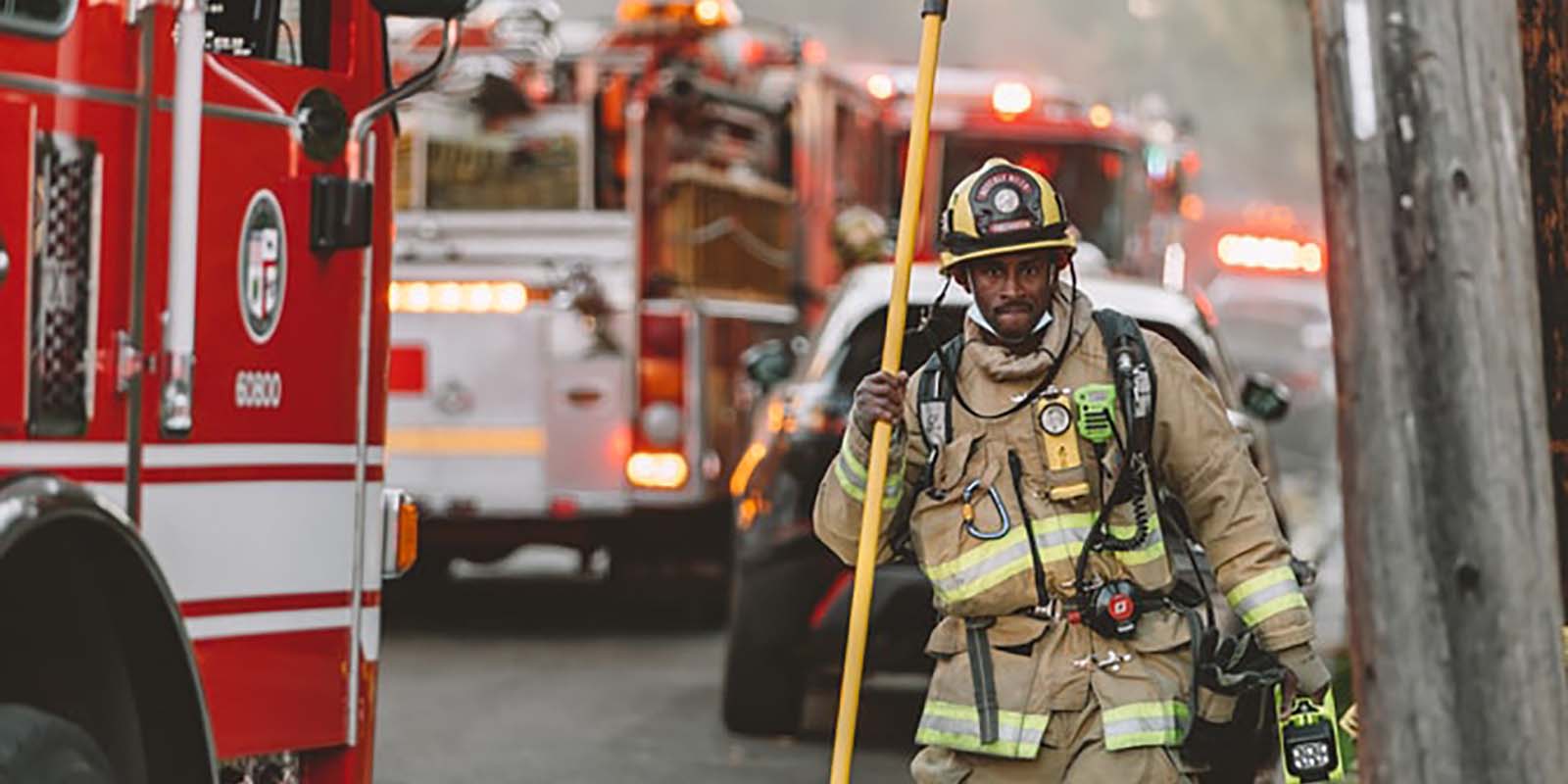 Northwest Wildland Fire Attorneys Recovered $25 M for Fire Victims
Lightning-caused wildfires typically start in forested regions where high temperatures and a dry, windy climate create the ideal conditions for a massive burn.
But naturally occurring wildfires only account for a fraction of all wildfires in the United States. According to the Insurance Information Institute, only 10 percent of wildfires are caused by lightning or natural causes. An astounding 90 percent of fires in the U.S. are man-made, which may include unattended campfires, burning of vegetation or debris, cigarettes or acts of arson. The III also lists the western states – particularly central and eastern Washington, eastern Oregon, and both northern California and southern California – as being among the top 10 states of high to extreme wildfire risk (2019).
Human-made wildfires are also caused by overgrown vegetation adjacent to power lines owned by utility companies that neglect to maintain their equipment. In addition, hot exhaust from vehicles or equipment used around dry vegetation can spark fires at work sites, which may have extremely dangerous and life-threatening consequences for homeowners and property owners in fire-prone areas.
Abeyta Nelson Injury Law holds these utility companies and businesses accountable for the fire damage, serious injury, and wrongful deaths that they cause to fire victims.
Won't my Homeowner's Insurance Policy Cover Fire Losses? What if I Don't Have Insurance Coverage?
Typically, homeowner's insurance policies treat fire as a "peril" or "catastrophe," so many insurance companies will cover fire damage to homes, attached or detached structures, personal property, and the cost to live elsewhere if your home is destroyed. Insurers may or may not cover the cost to replace landscaping, however, and insurance coverage for wildfire damage may vary depending on where you live. Your homeowner's insurance policy may not cover all types of fire damage.
If you do not have adequate limits under your insurance policy, or if you have no insurance coverage at all, you may still be eligible to file a wildfire claim. Schedule a free consultation with our trial lawyers today to discuss your legal options.
How Do I Know If I Should Hire an Attorney?
Since Abeyta Nelson never charges any client or potential client to talk with an attorney during a free consultation, you have nothing to lose nothing by calling our office. If you do have a valid legal claim, our team of injury lawyers will begin immediately building a strong case for you. Don't delay contacting Abeyta Nelson Injury Law until after you've been given a settlement offer from an insurance company, or for any other reason. Hiring an attorney with a proven track record is absolutely essential in order to receive the compensation you truly deserve. Abeyta Nelson Injury Law handles injury cases on a contingency fee basis, meaning there is no fee to our clients – ever – unless we recover compensation for you. And we consistently receive client testimonials from clients who are more than satisfied with the results of their personal injury case.
Experienced Wildfire Attorneys Make All the Difference in Handling Insurance Claims
Wildland fire cases are a relatively new and complex area of personal injury law, so it's important to trust the legal advice of an experienced wildfire litigation law firm. Abeyta Nelson attorney Rod Nelson and his team are among the leading wildfire attorneys in the Pacific Northwest, successfully recovering more than $25,000,000 for hundreds of fire victims over the past 10 years, and providing the highest level of legal representation for our clients in these settlements:
Confidential settlement for 160 claimants in the Monastery Fire on Satus Pass near Goldendale, WA (2011)
$219,330 settlement for six families in the Wishram Fire near Wishram, WA (2011)
$9,800,000 total settlement for 124 claimants who lacked insurance or suffered damage their insurance did not cover in the Taylor Bridge Fire near Ellensburg, WA (2012)
$600,000 settlement for four families in the St. Mary's Mission Road Fire near Omak, WA (2012)
$1,600,000 settlement for three families in the Blue Creek Fire near Walla Walla, WA (2015)
$6,200,000 settlement for 11 families in the Twisp River Fire near Twisp, WA (2020)
Abeyta Nelson Injury Law collaborated with California wildfire attorneys on the Camp Fire in Paradise, CA. The firms are jointly representing 165 claimants who suffered from devastating fire damage during the 2018 California fire that wiped out an entire town.
Abeyta Nelson represents victims in the 2020 Babb-Malden Fire
In 2021, the Department of Natural Resources (DNR) issued a report on the origin and cause of the Babb Wildfire that occurred on September 7, 2020, near Malden, WA. This devastating fire burned 15,266 acres, 121 primary residences and commercial buildings, and 94 other structures. Much of the town of Malden was destroyed. In addition, the town of Pine City was also badly damaged.
The DNR report stated that this fire started near a power distribution line owned and maintained by Avista Utilities. DNR investigators discovered remnants of the downed power line near a large Ponderosa pine tree. A large branch from the Ponderosa pine, with markings indicating it had come in contact with the power line, was found on the ground under the power line.
Washington courts have held that utility companies like Avista, as well as PG&E, Pacific Gas, and others are required to exercise "the highest degree of care human prudence is equal to." This means in practical terms that utility companies should do everything in their power to prevent vegetation from coming in contact with power lines so that fires like the Babb Fire, with their devastating consequences, do not occur.
Abeyta Nelson Injury Law represents wildfire victims who have suffered uninsured losses from fires caused by improperly-maintained utility lines. Our experienced personal injury law firm is currently representing several individuals who suffered losses because of the Babb Fire.
If you, a family member, or a loved one had uninsured property that was destroyed or damaged during September 2020 Babb-Malden/Manning Fire near Malden and Colfax, WA, the Whitney Fire near Davenport, WA, or other wildland fires, you may be able to recover your property losses for the destruction of trees, structures, grasslands, vehicles, equipment, agricultural lands, as well as personal property damage and even loss of income.
The personal injury attorneys of Abeyta Nelson Injury Law in Yakima, Ellensburg, and Sunnyside represent homeowners, landowners and wildfire victims who have had their property damaged by wildland fires.
The Abeyta Nelson Injury Law team would like to talk with you about how they might be able to help you and explain your legal rights. There is no fee for an initial consultation, and no fee unless a recovery is made for you.
Our Experienced Personal Injury Attorneys Are Ready to Help You Today
At Abeyta Nelson, our Central Washington personal injury lawyers understand that no two clients are the same, and that's why we listen carefully to the unique details of your story. From your first phone call to our law firm, you'll talk with a real person who cares about what you're going through. Our personal injury lawyers work hard to establish a strong attorney-client relationship with every client. If you choose to hire our firm, an experienced personal injury attorney will listen to you, answer your questions, and put you at ease. Our entire legal team takes the time to understand your concerns, and communicate with you as your case progresses. We pledge to give you the best legal advice possible. And most of all, we promise to take the pressure of the claims process off you so you can get better, and get on with your life.
Don't hesitate to contact our team at Abeyta Nelson today if you have questions about a potential wildfire claim. Information regarding representation by our firm on this or other fires can be obtained by calling Sherry or Carrie at phone number (509) 575-1588. Please call Abeyta Nelson today to schedule a free consultation. Our wildfire attorneys take your personal injury case personally.